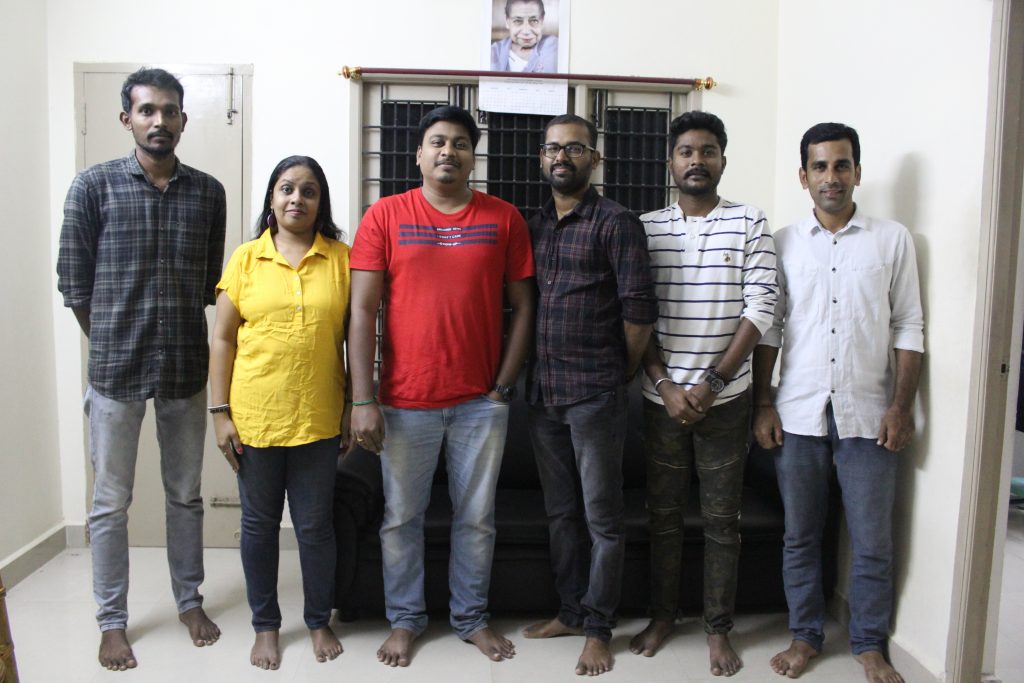 I (Divya Jay) got this wonderful opportunity of meeting and talking to the team that worked on RATSASAN and how this awesome psychological thriller happened! Mr. Ravikumar (Director), Mr. Naan Saravanan (the one who played 'Christopher'), Mr. Keerthivasan (Costume Designer) and Mr. SanLokesh (Editor).
Me: How did you decide on this story?
Director: I read about an incident that happened in Russia where a person was committing serial murders. That inspired me a lot and I decided to go ahead and research more about serial killings and eventually made this psychological thriller. The character 'Christopher' was developed over time and how & what he would be is something that evolved during the scripting.
Me: Why did you think that Vishnu Vishal would be best suited?
Director: Looks and age wise, Vishnu fit the character perfectly. But more important than all this is the fact that Vishnu liked and completely believed in my story. He had full confidence on me and that the movie would come out real well.
Me: What's most important for a good film?
Director: The team that works on the film and especially the Director need to completely believe and give their 100% to the movie. Good Script is key for any film to come out brilliantly well.
Me: What would you advice the upcoming filmmakers?
Director: No matter what keep learning from everything in life. Whether you win or lose, don't lose hope and keep pursuing what you like the most and this for sure will take you places. Even once you have won, don't think that you know everything… be a constant learner and keep yourself updated all the time. This is the true mantra for success.
Meanwhile, I get to have a short chat with Mr. Naan Saravanan (Christopher)!
Me: How does it feel like to be playing the bad guy?
Christopher: (laughs)… Being a bad guy is not as bad as what it seems after all…. In fact I am really touched by the kind of appreciation the audience gave me for my role as Christopher. I feel I have really evolved a lot with my acting skills after doing this role. A character where my body language had to do all the talking was very challenging and a great learning experience. Thanks to Dir. Ram for selecting me for this role. It really is a great leap in my professional life.
I would like to tell aspiring actors, have full faith on yourself and be completely true to what you do, then you will be successful for sure!
A few words from the Costume Designer and Editor of Ratsasan!
Keerthivasan (Costume Designer): I come from a small town Kumbakonam and was initially into family business. I loved designing and managed to find myself a place in the prestigious NIFT – Thanjavur. I have worked with Director Ram in his previous film and felt extremely comfortable working with him. He gives me full freedom to design costumes for each character and that ways brings out the best in me. Really happy to be having such an awesome team to work with.
Keerthivasan says: The place that you come from can be a small city or a big town, but what decides your future is the size of your dreams, the faith in yourself and the passion towards your work!
SanLokesh (Editor): My brother and my uncles have all been in the editing field for years. I grew up watching and learning from them. My brother is my biggest inspiration. Ratsasan is a very special movie for me because I have given more than my best to it and all my hardwork paid off! I would like to thank the Director for encouraging me so much and giving me the freedom to work the way I wish.
Congrats to the Ratsasan team on the success of the movie and hope they meet more and more success for their commendable work!