Divya: Tell us something about your background and how you became a filmmaker?
Sripal: I'm from a rural part of the state of Telangana in India. I liked movies as a child but never wanted to be a filmmaker, until I moved to Hyderabad for studies. The city life was tough on me in the initial days and I started reading books and watching movies as a deviation. Overtime, it felt like movie making is probably something I would enjoy doing, and after writing some stories and making a few short films it was clearer. However, it took a long time to make my debut feature film because I had to continue doing my day job and no producer would take me seriously because of that. I finally decided to self-fund my debut film, so I wrote something that can be done in a smaller budget and that's how 'How is that for a Monday?' happened.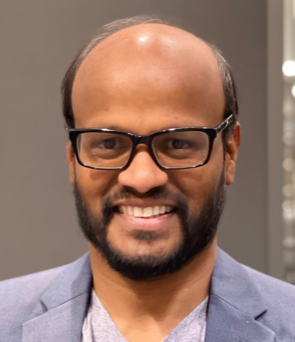 Divya: Do you think having a professional degree is a 'must' to become a good filmmaker?
Sripal: To be a filmmaker, one has to have a deep urge to tell stories using the cinematic medium. Rest everything is just a means to get there – join a film school, work in some capacity on other's films or make a few short films etc. The film school route has become less prominent starting the last couple of decades because most things such as access to world cinema, film equipment, discovering likeminded people and finding a mentor etc. which were exclusive benefits of going to a film school back in the day, could all be accomplished via the internet now.
Divya: Who are some of your all-time favourite filmmakers and what are some of your favourite films?
Sripal: The list keeps changing. At the moment, I find Coen Brothers, Richard Linklater, Mani Ratnam and Ram Gopal Varma as my biggest influences. And some of my favourite movies at the moment include The Gods Must be Crazy (part 1 & part 2), Boyhood, Bombay, Company etc.
Divya: Which is your favourite genre in filmmaking and do you plan to make films in more than just 1 genre?
Sripal: Dark Comedy, and movies reflecting contemporary society in any genre are the kind of films I like to make. I also like to make thrillers, but on a simpler scale.
Divya: Which is one location/country where you have always wanted to shoot/shot one of your films?
Sripal: I shot 'How is that for a Monday?' and all of my other short films in the US. However, I desperately want to make movies in India. The stories I have in mind are rooted in India and accordingly, I'm fascinated to make movies in natural locations of India.
Divya: Do you have any Indian filmmakers who you consider as a role model/s?
Sripal: Ram Gopal Varma. He proved to an entire generation of filmmaker aspirants that it could be done, and done without huge budgets.
Divya: Which are some of your favourite Indian films?
Sripal: Guide, Company (Hindi), Sindhooram, Swathi Muthyam (Telugu), and Most of what Mani Ratnam did between Mouna Ragam and Guru.
Divya: Do you think the script and direction of a movie should always be done by the same person? If not, how does/would it feel to direct a script written by someone else?
Sripal: Sometimes we watch a movie and tell ourselves, "I should have done this movie" or wonder how else we would have done it, if we did. That explains that the script and direction of a movie could be done by two different people. However, finding a likeminded writer whose sensibilities match at that level is rarely possible, which is why I think a lot of directors end up writing their own scripts.
Divya: What are the challenges that you have faced/face as a filmmaker? (technical/other challenges)
Sripal: Filmmaking is a very expensive medium and finding funding even at a low budget level is one of the biggest challenges, particularly for the beginner filmmakers. Another challenge is that the expression may be lost in translation because from the inception of an idea to the first copy of the film, there are many steps involved and any one of those steps gone wrong could ruin the whole thing. But then, that is also the fun part – the unplanned surprises along the journey and the anticipation.
Divya: Do you have a piece of advice to the upcoming filmmakers?
Sripal: Find likeminded people, at least a couple of them, who could become your long-term collaborators. Making movies is a very personal and lonely journey, and it helps greatly to have at least one other person by your side.
Divya: How does it feel to have your film as part of the 19th Chennai International Film Festival?
Sripal: Firstly, this is my debut feature film, and CIFF is where the movie is going to be played on the silver screen for the first time. Secondly, Chennai itself has rich film history and previously in the festival movies like Parasite were played in the same category, so, yes, I feel very excited and honoured. Thank you for the opportunity!