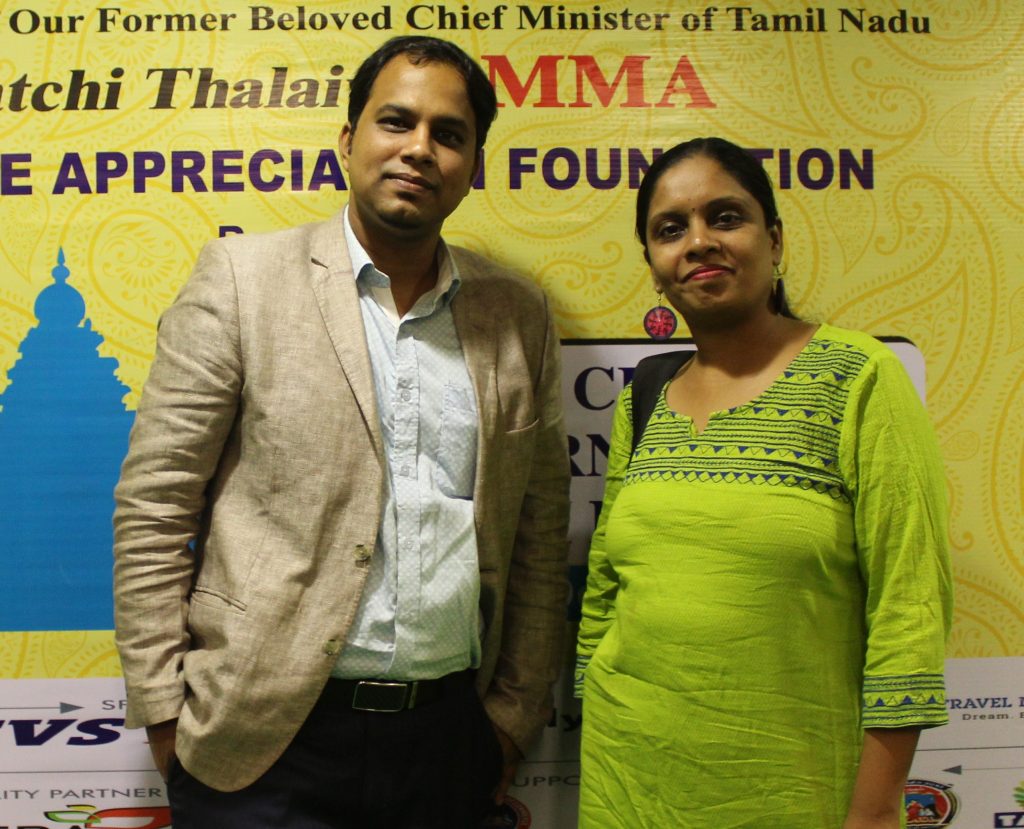 Arnab Middya, Director of the Bengali movie Andarkahini was in Chennai for the screening of his debut film as a Director. I (Divya Jay) got to chat with him and know how he took up filmmaking and what his journey has been like!
Divya: Why did you decide to take up filmmaking?
Arnab Middya: I have been seeing and continue to witness a lot of true, painful and heartbreaking stories from time to time. This is one reason why I felt that I should bring these stories to light and make people aware that such things do happen in our society. All the stories in Andarkahini are inspired by true stories.
I believe that women possess a very strong willpower and are an amazing creation of God. The sacrifices she makes as a mother, sister, daughter and many other roles are very touching and show how strong she is. I wish to tell the world all the stories that I have seen and heard through my life to the world and the best way I feel I can do it is through filmmaking. Cinema I feel is the best medium to tell people about issues in the society.
Divya: Why did you cast Priyanka Sarkar to play the lead in Andarkahini?
Arnab Middya: I was very clear that I wanted not just popular actors, but good actors for my movie. Priyanka Sarkar who plays the lead role in all the sections of the film is not just a very good actor, but also one of the superstars in the Bengali film industry! I am really glad that I got to cast her in the lead role for Andarkahini.
I have been watching Priyanka's movies right from my college days and have seen some amazing movies done by her! I knew that she was the best one to play the lead role in my film. Priyanka Sarkar had taken a break from her career when she was pregnant and Andarkahini happens to be her comeback film!
Divya: Would you want to make Andarkahini in some other language?
Arnab Middya: Of course I would! I honestly feel that language should not be a barrier in making a film. I would love to make Andarkahini in more languages so that it reaches many audience and the story of the characters in this movie is known to the world! The stories that I have wished to convey through Andarkahini are not specific to West Bengal or India, these are incidents that happen across the world!
Divya: Do you have a message or advice for aspiring filmmakers?
Arnab Middya: This is just my first film and I haven't really become famous enough to give advice or messages! (laughs) Yes, but there is one thing I would definitely like to tell one and all… make stories that touch your heart, because unless a movie or concept touches your heart it will never touch the heart of your audience. Have full confidence on yourself and on the story that you are making and it will surely go places!
Divya: How do you feel about Andarkahini coming to the Chennai International Film Festival?
Arnab Middya: Chennai International Film Festival is one of the most popular and prestigious film festivals of India and I am more than delighted that Andarkahini was showcased here. I am indeed very happy and feel proud that my movie made it to this festival. Tamil movies and Tamil audience are cultured and a very mature audience and that's one reason I always wanted my movie to be shown here and my dream has finally come true!
Divya: Wishing you all success with the movie ANDARKAHINI and hope we get to see more films from you in the future. Best Wishes…
ANDARKAHINI has been to 31 Film Festivals in India till now and has won 12 Awards, Chennai is the 32nd film festival at which was screened. The next screening of ANDARKAHINI is at the Asian Film Festival (Pune) on 26 Dec 2018 and at the Nepal International Film Festival in Feb 2019! Way to go, Mr. ARNAB MIDDYA…