Divya: Please share your journey of becoming a Director.
Ms. Roqiyeh TAVAKKOLI: I have a Bachelor of Arts in Cinema and Master of Arts in Dramatic Literature. I have made more than 20 short fiction and documentary films. I have made 2 feature films. Won more than 50 international and national awards. I am a cinema teacher and director of the university department. I have loved this work since I was a child and the only way to do it was to study cinema at university, this way was best way for me!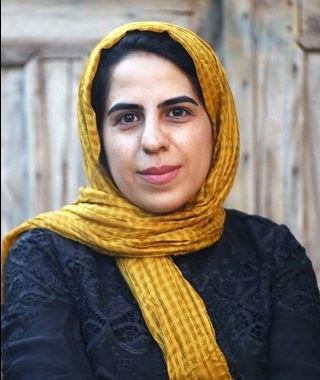 Divya: ‬Who are your most liked filmmakers?‬‬
Ms. Roqiyeh TAVAKKOLI: My favourite filmmakers in Iran are Asghar Farhadi, Dariush Mehrjui, Abbas Kiarostami and Hamid Nematollah. Among world directors are Woody Allen, Tarkovsky, Bertolucci and Bergman. I loved watching Autumn Sonata, Apartment & A Separation.
Divya: ‬Is a degree in filmmaking a 'must'? ‬
Ms. Roqiyeh TAVAKKOLI: It was necessary for me, because I went to Tehran from a small town and studied cinema there. It was important to me, but it is not a necessary condition for everyone, I think this is different for each person.
Divya: Your favourite genre/s in filmmaking.?
Ms. Roqiyeh TAVAKKOLI: Romance genre. I like to tell social stories to people around the world. I like most other genres, but I am not a fan of horror.
Divya: Your dream destination to shoot a film?‬
Ms. Roqiyeh TAVAKKOLI: Love to make a film in the city of Yazd because I was born here and it is very beautiful. I would love to make films in India, France and Japan because the culture of these countries is very interesting to me.
Divya: Been part of any Indian film/film festival?
Ms. Roqiyeh TAVAKKOLI: A few years ago, I participated in an Indian Women's Film Festival and there I saw some very good Indian short films. When we were teenagers, many Indian films were shown on Iranian television, and we fell in love with Indian cinema! I would love to work with Indian filmmakers someday.
Divya: Writing and Directing should be done by the same person?
Ms. Roqiyeh TAVAKKOLI: To make a film, Director and Writer need not be the same person, but they must have the same heart and mind…
Divya: Critical challenge/s faced by a filmmaker
Ms. Roqiyeh TAVAKKOLI: The most important thing in making a film for me has been finding an investor. Money plays a vital role.
Divya: Some advice for the budding filmmakers
Ms. Roqiyeh TAVAKKOLI: All I can say is: try to achieve your dreams, you will surely achieve it!
Divya: Thoughts on your film participating in the 19th Chennai International Film Festival
Ms. Roqiyeh TAVAKKOLI: I love India very much and Indian festivals are important to me, I was very happy to hear this news and I wish I could be there!