Director Wei Zhang's movie EMPTY NEST is going to be played at the 18th Chennai International Film Festival. His movie THE PHOTOGRAPHER was part of the 17th CIFF. Divya Jay from Team CIFF catches up with him on understanding how he works and how it feels to be part of CIFF for the 2nd time in a row!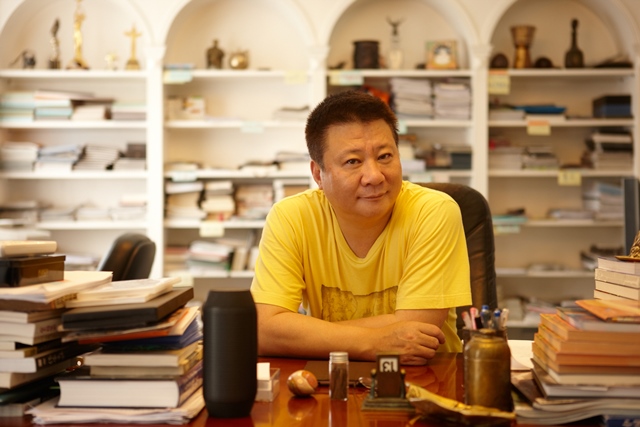 Divya Jay: Tell us about your background and how you got into filmmaking.
Director Zhang: I was born in Hunan Province of China. Filmmaking is a very professional business, so it needs professional preparation including going to professional school to study, and create chance to practice. I've studied Directing at the Beijing Film Academy as well as Cinema Studies at the Chinese National Academy of Arts. These two schools are the best institutions for filmmaking and cultural theory in China, and there are many predecessors there, with the help of them, I embarked on the road of film production without turning back.
Divya Jay: What challenges do you face as a filmmaker?
Director Zhang: I have multiple roles in my films; first of all I'm a Director as well as a Producer. From the beginning with a proper story, every step of the way is a challenge, and you know the movie needs to be a team effort, only by doing every step well, can we present a good work. For me the challenge is how to tell a realistic story in my own way.
Divya Jay: What genres of films do you make (feature/documentary/shorts, etc.)
Director Zhang: I've directed nine features including Beijing Dream (2010), Shadow Puppet Show of One Person (2011), Factory Boss (2014), Destiny (2016), Ballad from Tibet (2017), The Rib (2018), Photographer (2018) – *shown at 17th CIFF, Empty Nest (2020) and Redemption with Life (2021).
Divya Jay: According to you what are the qualities that are needed to be a successful filmmaker?
Director Zhang: A good filmmaker needs to understand the laws of filmmaking and production, especially in China; they must have traditional cultural literacy, good literary skills and artistic sensibility. For example, you should have the ability to plan, analyze and solve problems independently, and manage your own business.
Divya Jay: How do you choose the star cast for your film?
Director Zhang: An actor needs to fit the role he/she plays, at the same time, the actor needs to go deep into life and experience life.
Divya Jay: Who are your favourite filmmakers and movies?
Director Zhang: Oliver Stone and Martin Scorsese
Favourite movies are so many, such as Heaven & Earth (1993), Platoon (1986), The Last Temptation of Christ (1988) and Raging Bull (1980)
Divya Jay: Please share a few words as to how you feel about your film being shown at 18th Chennai International Film Festival.
Director Zhang: It's a great honour for 'Empty Nest' to be shown in the 18th Chennai International Film Festival – World Cinema section. I really appreciate the organizing committee of the film festival for showing this warmth and love to more people. Let us love others, to let everybody together, to warm with the warmth of human nature of the whole society.